Every amateur radio operator by definition has a first QSO. Most go into the bin of forgetfulness never to be discussed again except in the mind of that amateur radio operator. But this story is a little different.
In this story we have three participants: 1. the new adult amateur, Jason WA6MPR; 2. a step-pops, Wes N8QM and vice-president Cascades Amateur Radio Society (CARS); and 3. an uncle, David WA6TYJ.
The step-pops, Wes (yours truly), only recently entered into amateur radio (2019) after many years of urging by David, WA6TYJ, who had been in amateur radio for more decades than one could shake a stick at. David was particularly persistent with Wes never letting him forget that he could advance to Extra class nearly instantly with his professional electrical engineering background. David, however, had also been suggesting that Jason (Lt. Col. USAF, retired) should enter amateur radio though nobody was holding high hopes.
Then in September of 2019 Wes took the plunge and went from zero to Extra class in two weeks. He petitioned the FCC for a 1×2 vanity call sign and was issued N8QM. Upon his entry into amateur radio, Wes then began to join the chorus urging Jason to join in but nothing much changed. However…a miracle happened. Jason learned that once licensed as a ham radio operator, he could petition the FCC for his deceased grandfather's call, WA6MPR. That lit a fire and in the spring of 2020 Jason passed both the Technician's and General class operators exams. But neither said a word to David, WA6TYJ hoping to stun David at a later date.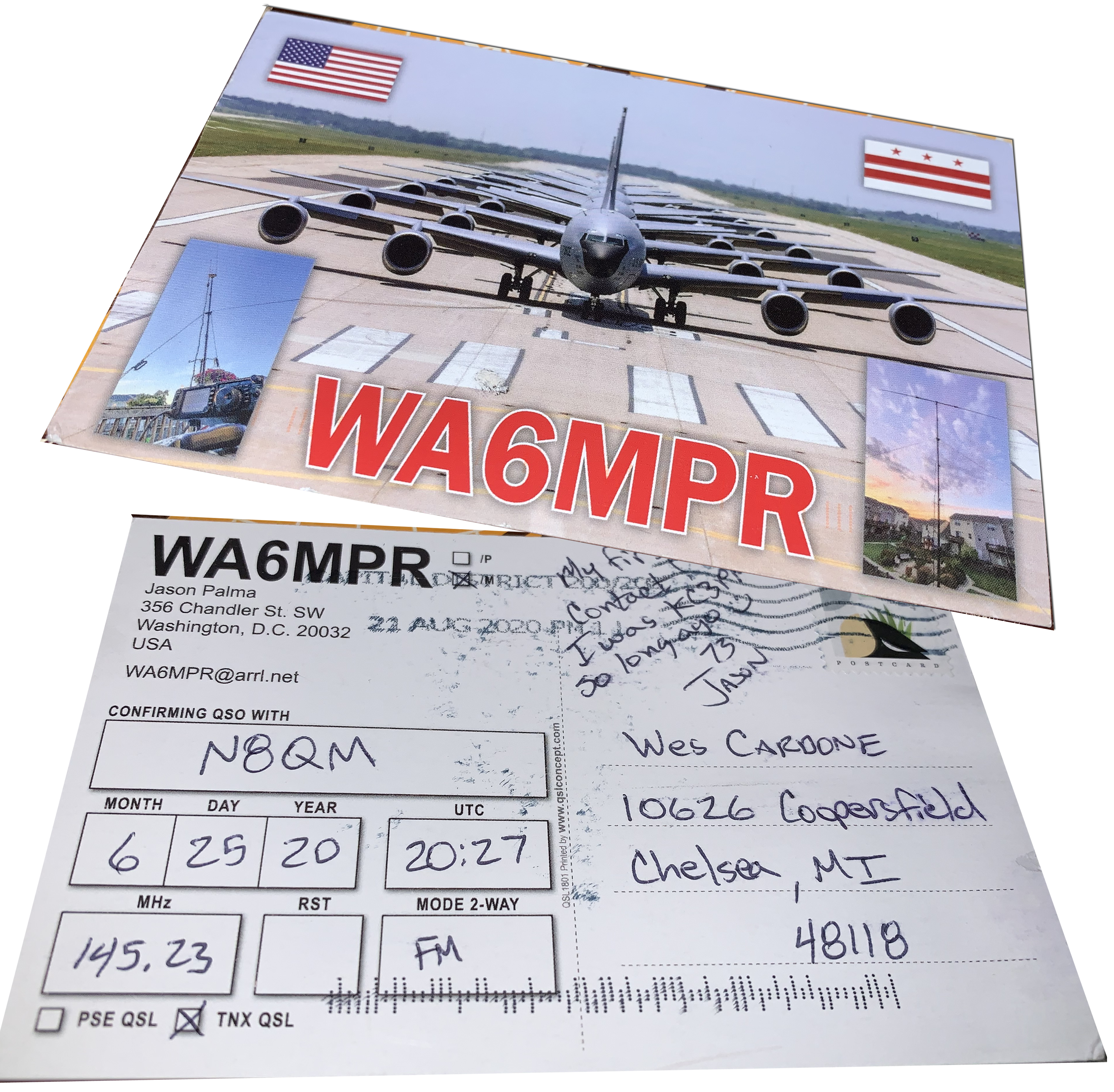 From that day, both Jason and Wes monitored the FCC amateur licensing web page for a call sign which would then enable Jason to start enjoying the privileges of amateur radio. It was about 2 weeks of waiting. During this time Jason monitored the various VHF repeaters in Washington DC. On a couple of occasions Wes logged into DC repeaters by EchoLink for QSOs which Jason could hear. Because of this, Wes knew what EchoLink repeaters were on Jason's scanner. As luck would have it, Wes found the FCC update first and immediately put out a call on one of those DC repeaters which were on Jason's scanner. Of course Jason did not know his call so did not answer but did recognize Wes' voice. Wes then sent Jason a text by smartphone telling him to check the FCC database. Jason did and then answered Wes' call though Wes could hear hesitancy in Jason's voice. Thus, Jason's very first QSO. In time, Jason acquired QSL cards and acknowledged that QSO as illustrated in the photo at left. But the story does not end there.
Jason immediately petitioned the FCC for his grandfather's call, WA6MPR and it took the FCC about 3 weeks to process the request. During that time nothing was said to David. Wes and Jason both kept David in the dark. When the FCC processing was complete for Jason's assumption of his grandfather's call, Wes called David on the telephone and asked to meet on 40 meters. David was busy doing other things but reluctantly agreed. Wes texted Jason with a sideband frequency telling him to get ready. So, while the telephone call was still active and Wes and David could hear each other on the telephone, David called for N8QM on 40 meters. Right away "another station" began calling David: "WA6TYJ, this is WA6MPR." David naturally thought that Wes was being funny using David's deceased dad's call and was not all that happy. But then on the phone Wes denied being the "perpetrator" simultaneously as Jason's call was going out again. David instantly figured it out and the phone went dead in favor of the QSO.